Faliraki Bay Beach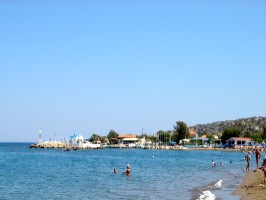 Faliraki is most known for its beautiful beaches, and the beach that is most famous is the Faliraki bay beach, whom with its little more than 4 kilometres sand welcomes about a million tourists each year.
The Faliraki bay beach is located on the east coast, about 15)kilometres from the town of Rhodes, and the beach is a bay with sand. It is quite protected from wind, so the waves do not grow big but holds a nice height. There aren't any sea currents either and the water is shallow for a long while.
Faliraki bay beach consist of nice sand and along the beautiful beach walk you will be surrounded by people of all ages, blue fabric and small palms. A few boutiques and a large number of pool bars is also available along the long beach walk in which you can rent sun chairs, listed to music for free and take part in different pool games.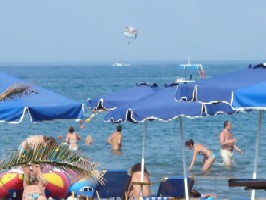 Aegean sea
On the Faliraki bay beach you can calmly enjoy the wonderful Aegean sea, or take on some of the many activates which is being offered. Here you can among other things rent a scooter, jump bungee jump, which you can do only at the Faliraki bay beach, windsurf, ride water skis, make time pass at a pool bar, or why not rent a sun chair and just chill under a parasol?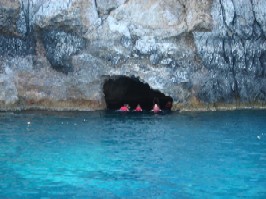 Nude beach
If you walk the Faliraki bay beach as far as it's possible to the south, and then walk around a little cliff, you'll find a nude beach in a beautiful bay surrounded by rocks. Some part of the 250 meters long beach consist of sand, and some of it of long rocks. The water is shallow a bit out in the sea here as well. There is a little shop/restaurant which offers a small selection of the most necessary, and sun chairs and parasols are also available for cheap renting.
The beaches of Faliraki extend into wonderful water, characteristic blue and clear as a crystal, and because of that beautiful sight it can easily be forgiven that it sometimes are many people fighting for a spot in the sand on one of the two well known beaches of Faliraki.