Bar surfing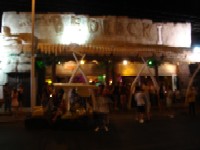 People often associate Faliraki with a hot, lively and youth nightlife, and the rumour is partly telling the truth. During high season, youth gather on the popular Orfandio Street where discos, bars and nightclubs are wall to wall.
As early as 7 pm the exploits of the night begins "bar crawling", and it doesn't stop until the sun rise. This hectic nightlife mostly attracts youth who are looking for a suitable place to put the heels to the ceiling, and in Faliraki they should all find at least one place they find themselves loving, since the selections of nightclubs and discos are huge in Faliraki
Colorado
The three floors high building it is located in, lies on the popular Orfandio Street, and it can provide you with both disco, live music and a heaven bar, one floor for each interest TheColorado club is open between 9 pm and 4 am, as most of the nightclubs along Orfandio Street
Down under
Another well visited club located on Orfandio Street. From 9 pm to 4 am you can dance, as long as your muscles don't give up, while you're waiting for something spectacular to happened, cause' it will.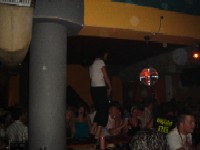 Stallet
Here you can mix up with Swedish people, and why not try a Swedish drink? The place is open between 9 pm and 4 am, and it's located on Orfandio Street.
Beach parties
During the summer month, large beach parties are always arranged. They attract a lot of visitors to the long Faliraki bay beach, and famous artists often perform. These beach parties start at midnight and don't end until the crowd is satisfied. Transports to these parties on the Faliraki bay beach resigns from the town of Rhodes if you aren't already in Faliraki.
Christos Garden
If you don't feel all that crazy, and you don't like beach parties, you should go to Christos Garden, there you can relax with a cold drink and enjoy the beautiful garden or the old house. Music is being played, and the feeling of Greece is at the top every evening.