Anthony Quinn Bay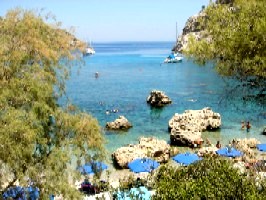 Anthony Quinn bay, a little bay that offers a fair below-water-world for whoever that remembers to bring their snorkel and cyclops.
Anthony Quinns Bay is located about 3 kilometres south of the Faliraki bay beach, but it's not much alike it. While the Faliraki bay beach offers a 4 kilometres stretch of sun chairs and parasols fixed in nice lines, The Anthony Quinn Bay mostly consists of cliffs and rocks, but of course there are some sun chairs at rent during high season. Even if cliffs and rocks don't sound all too comfortable, Anthony Quinn bay is well worth a visit, it is lovely and simply wonderful.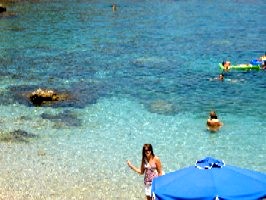 History
This lovely little bay, which have gotten its name from an actor called Anthony Quinn as a thank for him making the place famous in the movie "The Guns of Navarone" (and also because he bought property nearby). To drive to this beach you have to turn off to Ladiko after Faliraki, if you comes from the north, then the only thing you have to do is follow the signs.