Faliraki
If you want to get around in Faliraki, or in Rhodes in general, the local bus connection is well structured. But if you rather experience Rhodes on your own you can rent a car, or why not rent a motorcycle or a bike, after all, there isn't a lack of renters. But bee on your guard in the traffic,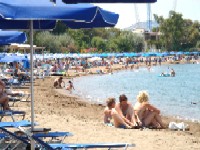 it sometimes seems as the Greeks totally ignore the traffic rules. If it feels like none of the things above really falls in your taste, you can realise the fun about Faliraki by foot, and take a cab, that drives to a permanent price, whenever your legs get tired of walking.
If there is a reason to go to Rhodes town, it is for the shopping and the cultural sights worth seeing, these don't exists in the same amount in Faliraki since focus mostly lie on the long beaches with their blue parasols, the cosy restaurants and the nights that never are completely quite.
The Nightlife
No, the nightlife in central Faliraki is the opposite to quite, loud and rich. Here the party peckish tourists gather at the bar and nightclubs streets. If you on the other hand would prefer the traditional Greek night there are, a bit away from the town,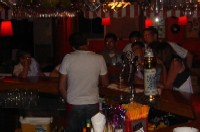 several classic Greek bars and cafés for a evening a little bit calmer and more relaxed. Another hot tip for you who want to enjoy all of Falirakis nightclubs and discos, but escape the noise when you decide to take it easy, is to rent a room a bit away from the heart of the city.
Rhodes
This little island has beautiful beaches, created by nature, inviting you to take a swim, or the terrain in the central part of the island offers green forests and plantations.
Nature
Don't forget to take a trip outside Faliraki theres a lot of thin's to explore!